October 15th, 2018
Z Mechanism Technology Institute Co., Ltd
Japanese Origin New Engine for Contra Rotating Propeller patented in US
–No Longer a Dream: "Flying Car" by Z mechanism engine –
Z Mechanism Technology Institute Co., Ltd.(Head office: Yonezawa, Yamagata, Japan; President: Takumi Yoshizawa)is pleased to announce a US Patent has been granted to our original proprietary technology: Dual Mutual Reverse Output Mirror-type XY separate crank mechanism (US Patent No.US2018/0030889 / Japan Patent No.6052748). This patented technology is developed from our "Z mechanism" which is a new mechanism to convert the crank's rotative force into two directions X and Y without any energy loss. We have confirmed the Z mechanism is applicable to engines, pumps, and compressors, and now we are convinced of its capabilities to realize the "Flying Car" as applying it to a contra rotating propeller (hereinafter referred to as "CRP").
Fig.1: Flying car and Contra Rotating Propeller Engine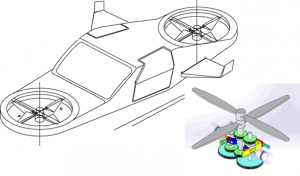 Fig.2: Z mechanism Two-shaft Reverse Low-vibration Gasoline Engine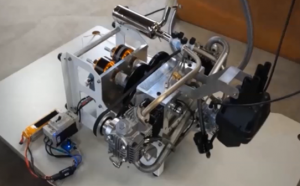 ■
Technology Summary
Z mechanism is a new mechanism of piston engines to convert the liner motion into rotational motion as dividing the rotational force of crank into two directions X and Y. This is our original technology to solve such conventional problems with the piston-crank mechanism as energy loss by side thrust, friction heat, and vibration. We have already applied it to engines, pumps, and compressors, and verified its capabilities of developing various applications. The "Dual Mutual Reverse Output Mirror-type XY separate crank mechanism" is newly developed from our Z mechanism technology and it enables to assemble a hi-performance CRP.
The "Flying car" has been studied broadly these days, but there are so many barriers in developing. The biggest challenge we face today is to have "a non-vibration hi-efficiency CRP" and "a light weight driving mechanism" at the same time. If our Z mechanism engine is applied to a hi-performance CRP, the two shafts would be able to rotate as synchronizing automatically on one engine. It allows to produce the stable jet blast flowing straightly, which makes it possible to fly a car stably with only one engine. Moreover, if a second engine is added to the car, it can fly more stably and return to the ground safely even in the emergency case such as the main engine stops.
We are now pleased to announce a policy to develop them toward the practical use domestically and internationally as taking this opportunity of the grant of a US Patent. Please see the attached reference material for further detail about our technology (written both in English and Japanese).
Information(PDF)
和文:空飛ぶ自動車用 新型2重反転動作エンジン– Zメカニズムエンジンによって実現する空飛ぶ自動車–
English:Japanese Origin New Engine for Contra Rotating Propeller patented in US – No Longer a Dream: "Flying Car" by Z mechanism engine –
Youtube
Please chech our YouTube video: Z mechanism Two-cylinder Convergence Evolution
Contacts
Z Mechanism Technology Institute Co., Ltd / President: Takumi Yoshizawa
Tel :+81-238-26-0060 Fax :+81-238-26-0001
HP:http://www.zmechanism.jp/  Mail:info@zmechanism.jp